A Managed Service Provider (MSP) for You
There are many Managed Service Providers (MSP) available to support your business. We too, offer managed services to our clients. Managed services are one of the key services that we offer our clients and it fits into our service model and can offer both a strong benefit and savings for our client.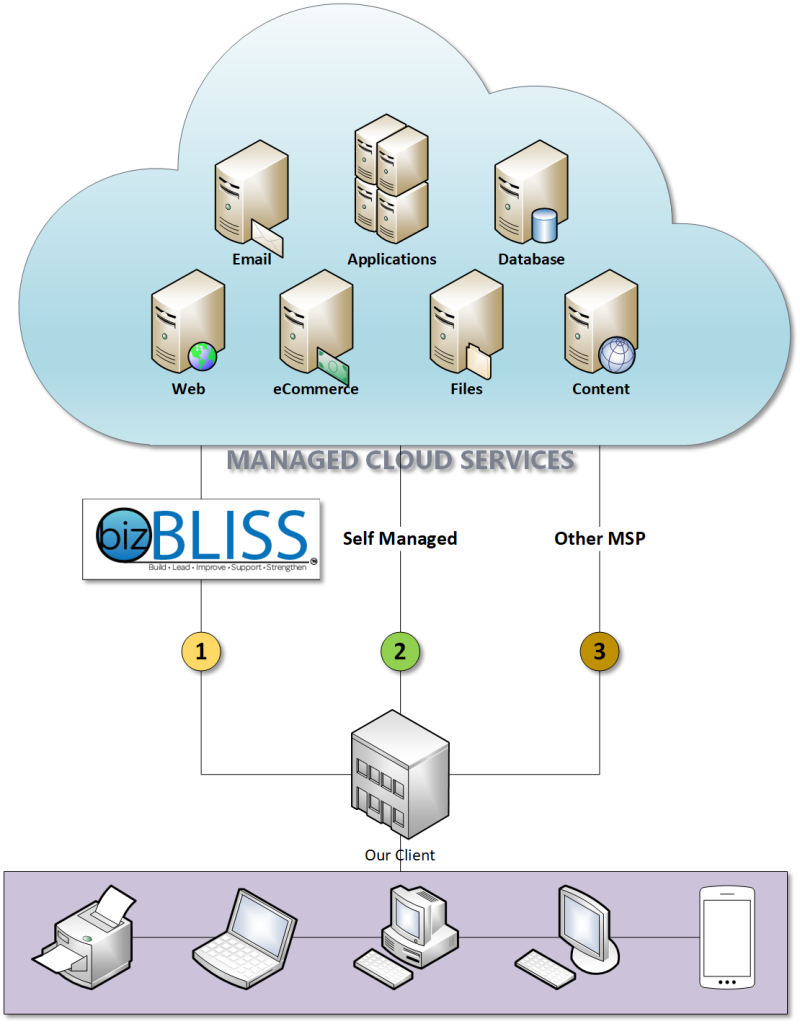 Cients have three choices when it comes to managed services for their company. They can:
Use bizBLISS
Choose a self managed approach
Choose another MSP
Ultimately, you will have to decide what is right for you. But, we would like to discuss a couple of points with you to help with your decision process. But, in all cases you will have access to the same cloud services with whichever path you choose.
The Secret about Cloud Services
As shown in the diagram above, there are three paths for you to reach the cloud. And, honestly speaking, in many cases we will be offering identical or very similar services as "the other MSP." This is just how the cloud works. We consistently are looking for the best suite of services to provide to our client. We work on an individual basis to find the best solution for both your needs and budget. And, since we are building long-term cloud-based solutions, the days of large hardware investments are virtually a thing of the past.
Why bizBLISS?
Why would you consider using bizBLISS for your MSP needs? We are a small client-driven company that partners with our clients to provide a wide range of services to meet their needs. We offer our clients discounts when electing to use multiple services with us. In doing this, we can be your primary point of support for many key business operations. And this can be key with implementing and maintaining integrated solutions and automated systems.
We offer 24/7/365 support for our clients. With this, we provide remote support, backups, and managed security. bizBLISS is an insured service provider with over two decades of expertise in business systems and over forty years expertise in business operations. With this combination, we bring a valued suite of services to our clients that can contribute to their bottom line and overall success.
We have to be honest and tell you about what we do not have; that is a big overhead. With this said, we can generally provide like services at a lower cost to our clients without sacrificing quality. We deploy active services which minimize reactive scenarios.
Looking Forward
If you are already using one of our services, we appreciate your business. Having worked with us, you know our commitment to your success. We would like an opportunity to discuss how we can expand our services for you.
If we have not had the opportunity to work with you, we would love to learn about your needs. I am confident that we can gain your trust with any of the services that we provide:
Please contact us and let us know what we can do.